"Ukiyo-e: a Dream Journey to Edo" comprises 8 themes, namely "The Dawn of Ukiyo-e", "The Birth of Color Ukiyo-e - Suzuki Harunobu", "The Peak of Paintings of Ladies - Kitagawa Utamaro", "'The Painting Addict - Katsushika Hokusai", "The Edo Man with an Unrestrained Soul", "The Silent and Pathetic Nostalgia - Utagawa Hiroshige", "Decadent Beauty at the End of the Century", and "Evening Lights", to create a panoramic view of Japanese Edo culture. It will, on the one hand, serve to enhance the public's understanding of Japanese culture, customs, and art; and on the other hand, intuitively present the marvelous influence that changes the world brought about by the cross-cultural flowing of art in the era of globalization through the cause-consequence trails of Ukiyo-e prints and paintings.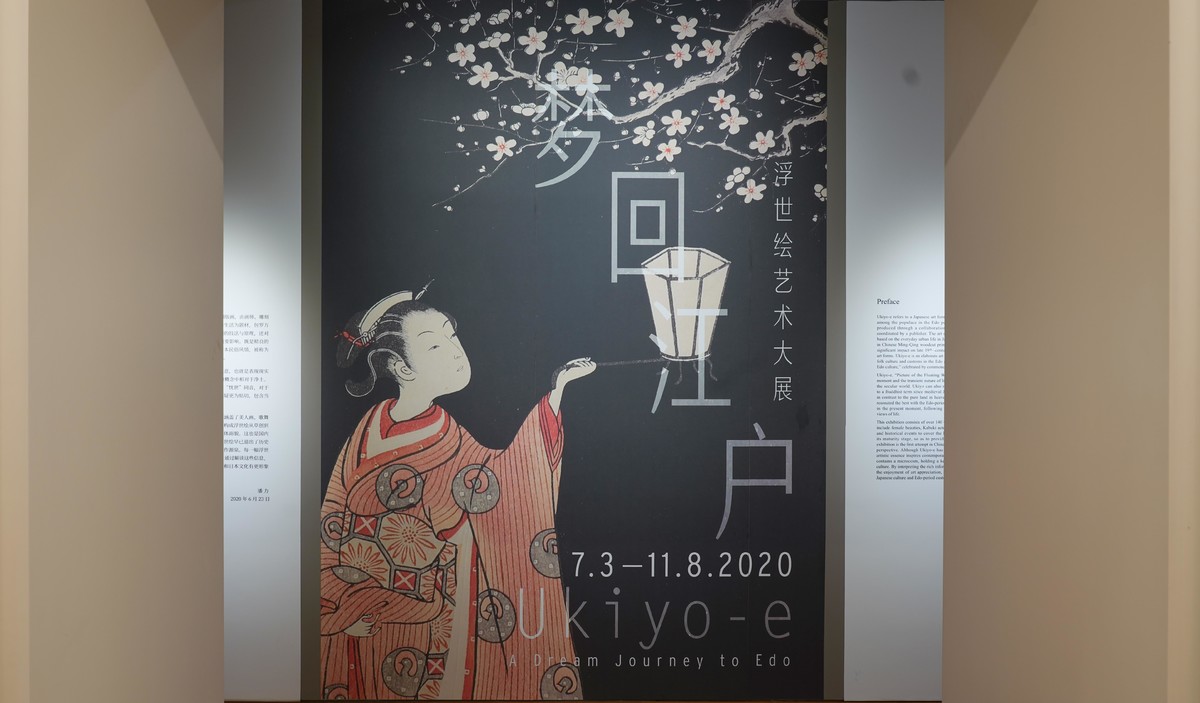 Over 140 classic works to interpret Edo style
The over 140 classic works on display are carefully selected from thousands of Ukiyo-e works, including the most representative ones of major Japanese Ukiyo-e masters at various stages such as Suzuki Harunobu, Torii Kiyomitsu, Kitagawa Utamaro, Katsushika Hokusai, Toshusai Sharaku, Utagawa Hiroshige. "Dressing", "Leaf-shadowed Field", "The Girl", "Thirty-six Scenic Views of Kanagawa", "Flower and Bird Series Album – Java Sparrow and Magnolia", "One Hundred Edo Views - Asakusa Kongousan", "One Hundred Edo Views - Kameido Tenjin", "Copy Edition of Water Margin (one of the triptych)", etc., involving beauty, Kabuki, landscape, flowers and birds, historical stories and many other artistic themes. It can be said that these works not only outline the development of Ukiyo-e art, but also form a canonical Japanese art exhibition.
Unique curatorial perspective
The exhibition reproduces a real Ukiyo-e world from a panoramic curatorial perspective. It breaks away from the exhibition form classified by a single genre, comprehensively and systematically sorts out the development history and themes of Ukiyo-e. Introducing the art forms of Ukiyo-e in depth in a simple way, it makes a concise analysis of the painters and their works, and uncovers the cultural and spiritual essence of Edo folklore and Ukiyo-e art in all dimensions. The panoramic curatorial concept allows the audience to understand the Ukiyo-e masterpieces baptized over the time, and to to know further the Japanese Ukiyo-e culture. The curator of this exhibition, Professor Pan Li, professor and doctoral tutor of Shanghai Academy of Fine Arts, is an authoritative expert and scholar in the history of Japanese art in China. This is his major domestic curatorial project, and the academic monographs will be published based on the exhibition.