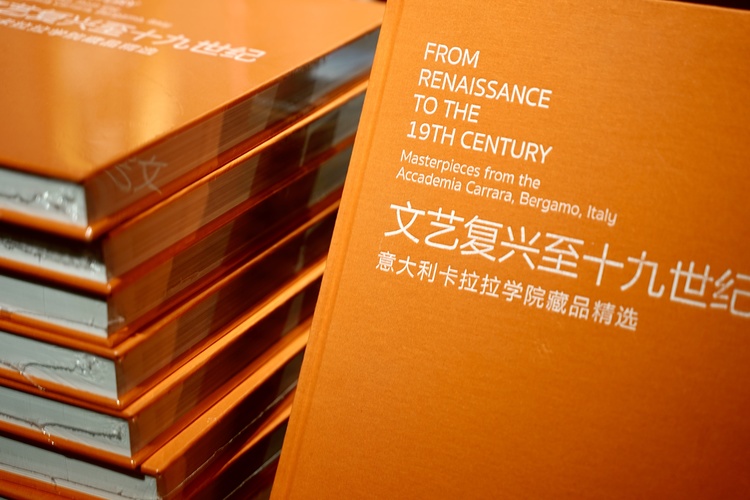 On August 11, 2021, Bund One Art Museum published this catalogue on the occasion of the exhibition From Renaissance to the 19th Century Masterpieces from the Accademia Carrara, Bergamo, Italy, organized by Shanghai XinHua Distribution Group ., Ltd., Shanghai Tix-Media Co., Ltd., Accademia Carrara and Arthemisia. The texts in the catalogue are written by Giovanni Valagussa, an art historian and the curator of the Italian exhibition, let us know the stories behind the paintings in this exhibition from a professional point of view.
According to the chronological order, the book unfolds Humanism and Renaissance, Venice in the 16th Century, Genres of the 17th Century, The 18th Century of civil discoveries and the end of the aristocracy, and The 19th Century from Romanticism to psychoanalysis, five sections, presenting a magnificent panorama from the Humanism and the Renaissance to the 19th century.
Fifty-four important works selected from the collections of Accademia Carrara in Italy form this exhibition of art treasures titled "From Renaissance to the 19th Century", and published this catalogue. This stirring exhibition highlights masterpieces of Raffaello, Tiziano, Bellini, Rubens and so on that have been enlightening in the history of art. Among them, there are a number of masterpieces that we have learned in various books on the history of Western art. It is worth cherishing that today we can so closely appreciate these great works of art spanning hundreds of years. Traditional Western painting, just like Chinese culture, pays attention to "expressing moral in paintings". Through the characters, stories and landscapes in these paintings, we can reproduce changes in religion, politics, science, education and many other aspects in Western society from Renaissance to the 19th century. This makes the exhibition not only a textbook of art, but a small encyclopedia of Western history. Facing these works, even those who major in art can tell only the greatest names and works. But we must know that no great innovation is achieved overnight. Instead, the magnificent epic of art was completed by generations of painters in the past centuries who have launched new ideas and invented new techniques day by day and kept bringing forth the new through the old.
Xie Dingwei Director of Bund One Art Museum